SOLIDWORKS Premium is a comprehensive 3D design solution that adds powerful simulation and design validation to the capabilities of SOLIDWORKS Professional, as well as ECAD/MCAD collaboration, reverse engineering, and advanced wire and pipe routing functionality
SOLIDWORKS® Premium is a comprehensive 3D design solution that adds to the capabilities of SOLIDWORKS Professional with powerful simulation, motion, and design validation tools, advanced wire and pipe routing functionality, reverse engineering capabilities, and much more.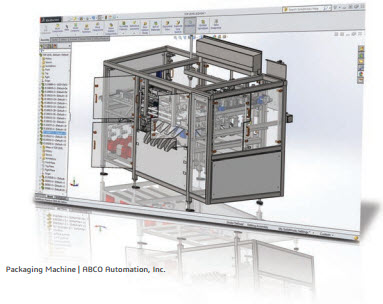 SOLIDWORKS Premium solutions include:
Assembly Simulation
Linear stress analysis with SOLIDWORKS Simulation enables designers and engineers to quickly and efficiently validate quality, performance, and safety—all while creating their design.
Motion Analysis
Easily evaluate how your product will perform and move throughout its operational cycle with motion analysis using SOLIDWORKS Simulation. Visualize your product moving as it would in the real world and measure the forces and loads on your design. Plus, use the data to correctly size motors and create the 'correct' mechanism to ensure performance, product quality, and safety.
Routing
SOLIDWORKS Routing users can route rectangular and round sections to meet their design needs. Equipment designers, product designers, machine designers, facility designers and others all need rectangular section routing to complete their designs that include ducting, cable trays, conveyors, material handling chutes, and many other systems.
Advanced Surface Flattening
Often products like leather goods, sports equipment, footwear, and products made from composite materials, like carbon fiber and fiberglass, have complex shapes, but are manufactured from materials that start out as flat stock, such as cow hides, nylon, cloth, and flat composite sheet. Therefore, it is necessary to accurately determine or estimate the size and shape of the surfaces in their flattened state in order to be able to cut the material from the flat sheet.
Simulate Welded Structures
Quickly create designs that have extrusions and easily generate cut lists and bills of materials to streamline design and manufacturing of welded structures, frames, and bases.